Meet Mary Kirkwood, Vice National Commodore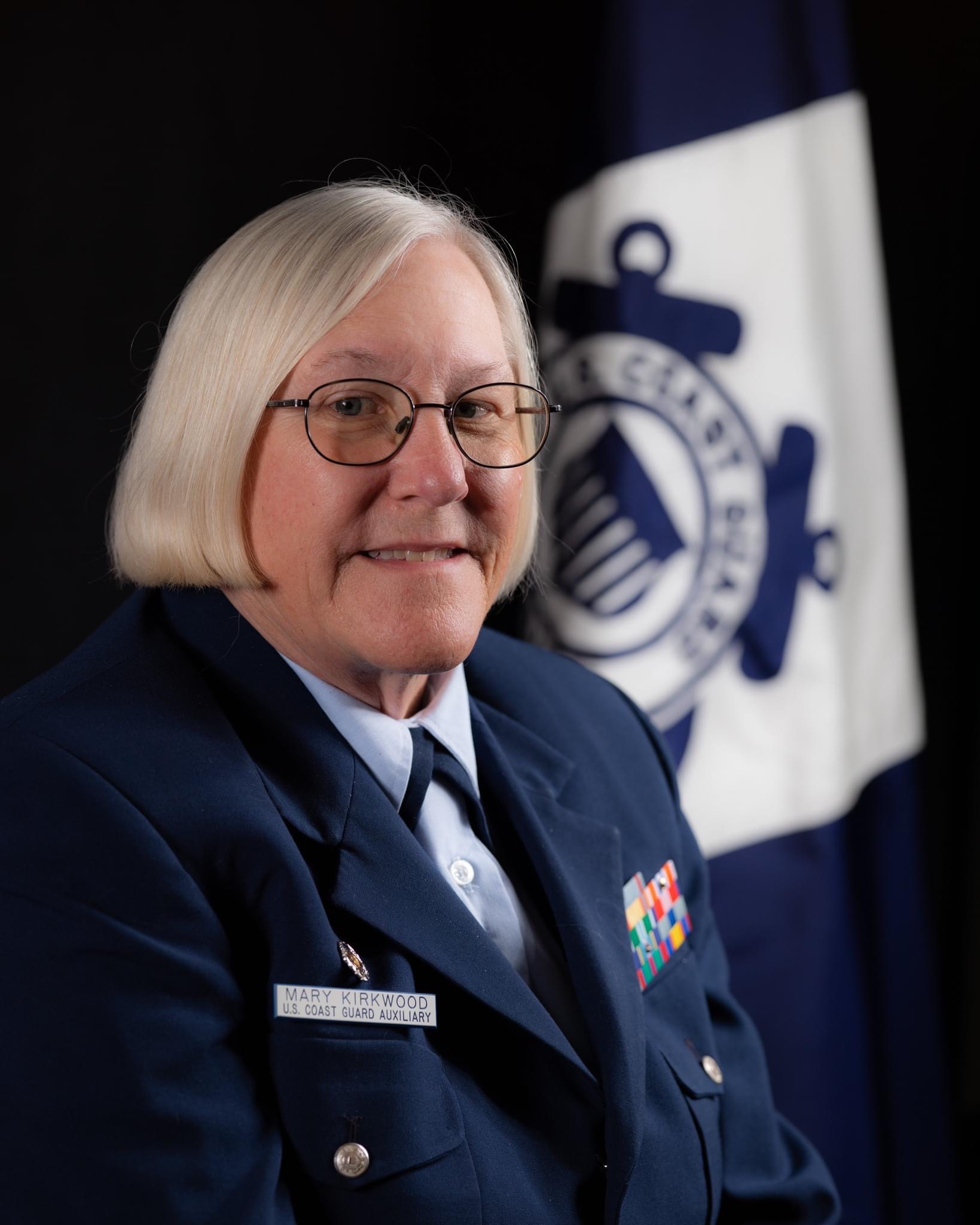 COMO Mary Kirkwood
Biography of Commodore Mary Kirkwood
Commodore Mary Kirkwood resides in northern California and joined the Auxiliary in 2002, following the tragic events of 9-11. She served most recently as Deputy National Commodore for the Pacific Area and Operations, supporting five Pacific Area districts as well as the Operations Directorates of Response, Prevention, International Affairs and Emergency Management before assuming the office of Vice National Commodore.
Commodore Kirkwood currently holds certifications as Boat Crew, Instructor, AID to Navigation Verifier, Vessel Examiner, Fingerprint Technician, Telecommunications Operator, and AUXOP.
She has been recognized with the Auxiliary Meritorious Service Award, Auxiliary Commendation Award, Auxiliary Achievement Award (3), Sustained Service Award (11), Auxiliary Public Education Service Award (5), Special Operations Service Ribbon (3), Auxiliary Membership Service Award (2), Auxiliary Operations Service Award (7), Auxiliary Operational Excellence Award, Coast Guard Meritorious Team Commendation (18), Coast Guard Unit Commendation, DHS Outstanding Unit Award, and the Presidential Unit Citation.
Commodore Kirkwood retired from nursing after a 40-year career in Critical Care and Nursing Management. She currently volunteers 1-2 days per week at the TRACEN Petaluma Health Services clinic, and once per week at the DIRAUX office of District 11N. In addition, she teaches First Aid, CPR/AED, Pediatric First Aid/CPR, the Police Officer's Safety Training (POST), Child and Babysitting course, and Advanced Cardiac Life Support.
She is a Lifetime member of the Girl Scouts of America and won the prestigious "Thanks" award. Her hobbies include glass crafts (fused and stained glass), SCUBA diving, traveling, hiking, and birding, and holds dearly her time with friends and family.
Page Last Reviewed or Updated: April 18, 2023