Meet Mark Simoni, Vice National Commodore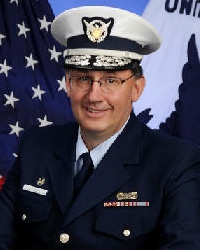 COMO Mark Simoni
Biography of Commodore Simoni
Commodore Mark Simoni, from Saginaw, Michigan, joined the Coast Guard Auxiliary in 1991 and has served in a variety of positions: Division Chief - Surface in the Operations Department from 2000 through 2005; District Commodore of the Ninth Central Region; National Directorate Commodore- Operations; and as Assistant National Commodore, Operations Policy and Resource Management.
He recently completed a term as DNACO-Operations and LANT Area-West. In this office he oversaw staff functions in the Directorates of Response, Prevention, Incident Management and Preparedness, and International Affairs. He also had supervisory responsibilities over the six Auxiliary Regions in D8 and D9.
Commodore Simoni attended the University of Michigan and Northwestern Michigan University. He owns an Audio/Video company in Saginaw MI, and resides in St. Charles, MI, with his wife Cheryl.
Page Last Reviewed or Updated: November 1, 2012