Meet Richard A. Washburn, National Commodore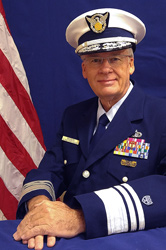 COMO Washburn
Biography of Commodore Washburn
Commodore Rick Washburn is currently serving as National Commodore for the United States Coast Guard Auxiliary. He also serves as the Chief Executive Officer for the United States Coast Guard Auxiliary and Chairman of the Board for the United States Coast Guard Auxiliary Association. He previously served as Vice National Commodore from 2014 - 2016, Deputy National Commodore for the Atlantic West Area and Mission Support from 2012- 2014, and District Commodore for the Eighth District, Eastern Region from 2011 to 2012.
Commodore Washburn graduated from Stonehill College with a Bachelor of Science degree in Criminal Justice. He went on to Golden Gate University and graduated with a Master's Degree in Public Administration with a concentration in Justice Administration.
Commodore Washburn joined the U.S. Coast Guard Auxiliary in 2002. He has held a wide variety of positions in both elected and appointed staff positions from Flotilla to the National Bridge. He is a member of Flotilla 12-07 in the Tri-Cities Tennessee area.
Commodore Washburn served in the United States Air Force as a commissioned officer in the Security Police / Security Forces career field. He went on to serve with the United States Department of Justice as a Special Agent for the Drug Enforcement Administration. Commodore Washburn has owned and operated a small business for the past 20 years.
Commodore Washburn maintains homes in Gray, Tennessee and Holiday, Florida. He has one son in Salt Lake City, Utah.
Page Last Reviewed or Updated: February 1, 2017