Meet Thomas C. Mallison, National Commodore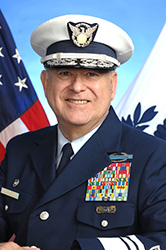 COMO Mallison
Biography of Commodore Mallison
Commodore Thomas C. Mallison is currently serving as National Commodore. He previously served as Vice National Commodore in 2011-2012, as Deputy National Commodore - Operations Policy and Atlantic Area West in 2009-2010, as District Commodore, Eighth District Eastern Region in 2007-08, as District Vice Commodore in 2005-06, and as District Rear Commodore West in 2003-04. He served as Department Chief of the National Department of Personnel in 2000-02.
He graduated from the U.S. Military Academy at West Point, NY with a Bachelor of Science degree in Mathematics and Science. He graduated With Honors from the U.S. Army Command and General Staff College. He holds a Ph.D. in Business Administration.
Commodore Mallison joined the U.S. Coast Guard Auxiliary in 1990. He has a wide variety of experiences in both elected and staff offices at all levels from flotilla to National. He is qualified as Boat Crew Coxswain, PATON Verifier, RBS Visitor, Vessel Examiner, Instructor, Telecommunications Operator and Qualification Examiner. He is also an AUXOP member.
Commodore Mallison presently serves as Chairman of the Board of the Coast Guard Auxiliary Association, Inc. He is also a member of the Board of Directors of the Association for Rescue at Sea, and is an Honorary Trustee of the Coast Guard Foundation.
He retired as Vice President and Director of Administration with Systran Corporation in Dayton, Ohio. During his business career, he served on the Boards of Directors of three manufacturing companies and a nonprofit corporation in the medical sector.
Commodore Mallison served in the U.S. Army both as a commissioned officer and as a non-commissioned officer, and retired with twenty years of service. Overseas tours included Germany, Korea and Vietnam. Commodore Mallison and his wife, Wanda, reside in Bear Lake, Michigan.
Page Last Reviewed or Updated: August 8, 2013